Annual Convocation 2022
---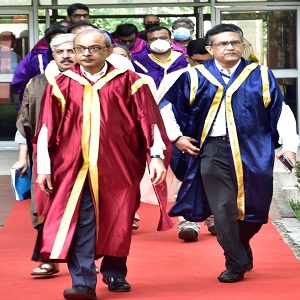 The annual graduation ceremony or Convocation is a day devoted to celebrating a critical juncture in students' lives, a time of unbridled optimism. After two years, the graduation ceremony for the batch of 2022 (PGP 57th batch) was held on April 29, 2022, at IIMC campus. The Chief Guest who graced this landmark event was IIM Calcutta alumnus, Managing Director and Chief Executive Officer of the Bombay Stock Exchange, Mr Ashish Chauhan. Shri Shrikrishna Kulkarni, Chairperson - Board of Governors, IIM Calcutta and Professor Uttam Kumar Sarkar, Director, IIM Calcutta also graced the occasion.
This year, 479 students from the 57th batch of the 2-year flagship MBA programme were awarded their degrees. 79 students from the prestigious 1-year MBAEx programme also graduated on this day.
The award of diplomas was announced for 40 students in Post Graduate Programme for Executives for Visionary Leadership in Manufacturing (PGPEX VLM) and 62 students in Post Graduate Diploma in Business Analytics (PGDBA). Fifteen students received their doctoral degrees from IIM Calcutta this year.
Professor Uttam Kumar Sarkar, Director, IIM Calcutta, inaugurated the ceremony by introducing the Chief Guest and presenting the Annual Report. Addressing the audience, Professor Sarkar said, 'I congratulate all graduating students on their success and wish them good life and career ahead as they brave the professional world as brand ambassadors of IIM Calcutta.' Chairperson, Board of Governors, Shri Shrikrishna Kulkarni, in his address, said, 'My dear graduating students, please accept my heartfelt congratulations and admiration for all of you. As you set forth, I urge you to always introspect and consider ways in which you will inspire yourselves to rise to the challenges of responsible, accountable leadership, to behave wisely, especially in the face of powerful pressures to do otherwise and to develop a clear set of moral commitments, personal values, and ethical principles to guide your actions. Mr Chauhan delivered the Convocation address as the Chief Guest.