Mr. Srinath Narasimhan
---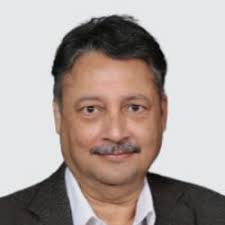 Alumni Cell: Can you tell us a bit about your early childhood, about where you grew up, and what was your childhood like?
Srinath Narasimhan: My parents got transferred very often and I got to live in different cities. It became very difficult to develop steady friends because we kept moving every two years or three years. I had to repeat some classes because of midyear shifts and lost a couple of years which I was fortunate to be able to make up in later years. I did get to live in different cities, go to different schools and see very different environments - so it was quite interesting.
AC: How do you think your time at Joka prepared you for the professional world and personal life after MBA?
SN: It's not just what you learn in the classroom that makes who you are as a person. I think in many ways the opportunity to interact with fellow students who were from a diversity of backgrounds gives you a very different perspective on both work as well as life. I benefited immensely from the friends I made at that time, many of whom have stayed as friends for over 35 years. After receiving the award, my first congratulations were from IIM C friends, so it's like you make these friendships for life.
The other unique thing is the relationship that we developed with professors because you live on campus and you work very closely with them. With some of my professors I had a much deeper relationship and I could talk to them about a lot of things - curriculum, courses, and life - and they are really good people to talk to. All of that has helped to shape who I am and in times of difficulty, helped me to decide what I should and should not do.
AC: If you could do one thing differently from your time here as a student, what would it be?
SN: I'm quite happy with how things went. One of the things that I did was to attend a lot of courses, and I found that this was a good way to get exposure to areas that you may not have in the normal course. For example, I did a lot of economics courses even though my specialization was marketing. The opportunity that the institute offered, if you have the desire to learn, is amazing. The system supports you and this was one of the very positive aspects of IIM C. As an example, in one of the courses, the professor told me that I had already done about 50 - 60% of the course in some earlier course and so while everybody else went through the standard routine he gave me something extra to do in the form of an assignment so as to get more value out of the program.
AC: What would you say was a defining or turning point in your career?
SN: It's probably the fact that I got to work with the Tata Group in the Tata Administrative Services and the kind of opportunities that it gave me. I was very fortunate to get to work with and learn from Mr R N Tata directly quite early in my career. He has been a huge inspiration to me and getting the opportunity to work with somebody like him I think is truly unique and special, something that has been a very important aspect of my life and career and something which I will always remember and cherish.
AC: If you were to leave one line of thought for those graduating from an MBA, what would it be?
SN: I think a world of opportunities is in front of today's generation, much more than what we had in our time. You have all the skills, capabilities, support etc. What you do with all of this is up to you. My message to everybody is, think big, think bold. Don't be satisfied with the ordinary, try and do something different or try and do something which is a game-changer. Make a name for yourself, for your institute, and your country. But in doing this, don't lose sight of the fact that the planet is subject to a lot of stress and there is a need to find a sensible balance between development and sustainability.
We are passing the torch to you, but you're coming into a situation that is different from where we were. The environment is at a completely different level of stress today as compared to 35 years ago and therefore you have a greater responsibility to make sure that you act in a manner that creates sustainability for the planet in tandem with the growth and development that you are looking for.
Be bold, think big, be responsible. All the best.