International Women's Day celebrated
---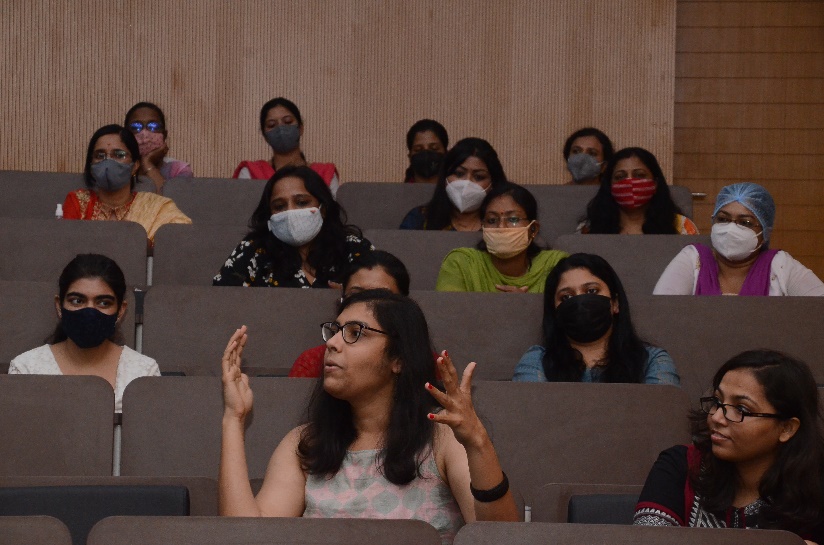 IIM Calcutta celebrated International Women's Day 2022. We took this day to acknowledge how historically women have protested against war and various inequalities. We recognized the crucial and pivotal contribution of women in different capacities at IIM Calcutta – as administrative staff in different programs, as students, and as faculty.
The Alumni cell welcomed Dr. Athreya, Yashaswini Samat, Soundari Mukherjea, Sharmila Pande, Rotna Das, and Shalini Gopalkrishnan. These incredible women shared stories of their time at Joka. They spoke of the acceptance that the most conservative to the most bohemian person received. Soundari Mukherjea spoke about her job using business storytelling to drive outcomes. Rotna Das recalled her journey in corporate life and the changes she witnessed as a woman at work. Sharmila Pande spoke of well-being and looking after ourselves better, both physical and mental, empowering women, creating a women's club, creating a support system for each other, and giving back to society.
Yashaswini Samat spoke about how a woman's most productive years are also the ones coinciding with hectic family life, navigating through life while staying true to yourself. Rupa Athreya spoke of her time as one of the first women students at IIM Calcutta, her work at Glaxo Laboratories. She talked about her job as a nutrition officer at Unicef, promoting iodized salt, universal child immunization, leprosy control, diarrhoea control, HIV aids, and anaemia control.
The Alumni Cell also hosted Mrs. Sharmila Pande for a talk centred on "Using mindfulness to overcome anxiety" to mark the International Women's Day celebration. She spoke on how society puts enough pressure on women to act and be like men because men hold most positions of authority. She then shared her experience with ICICI Ltd and how the company has supported female employees. Her family extended enough support for her to follow her passion. Women are synonymous to sacrifice and perfection. But it is okay to have imperfections. It is imperative to let things go. In Order to undo one bad thought, you need to have three good thoughts. To deal with it, you have to first figure out what triggers anxiety and where it shows in your body. Having figured this out, see how you want to deal with it. Do what makes you comfortable, or one can follow meditation too. Begin by accepting that yes, you are anxious, and then work on it. Finally, she led a meditation session with incredibly refreshing results.