Tata Social Enterprise Challenge 2018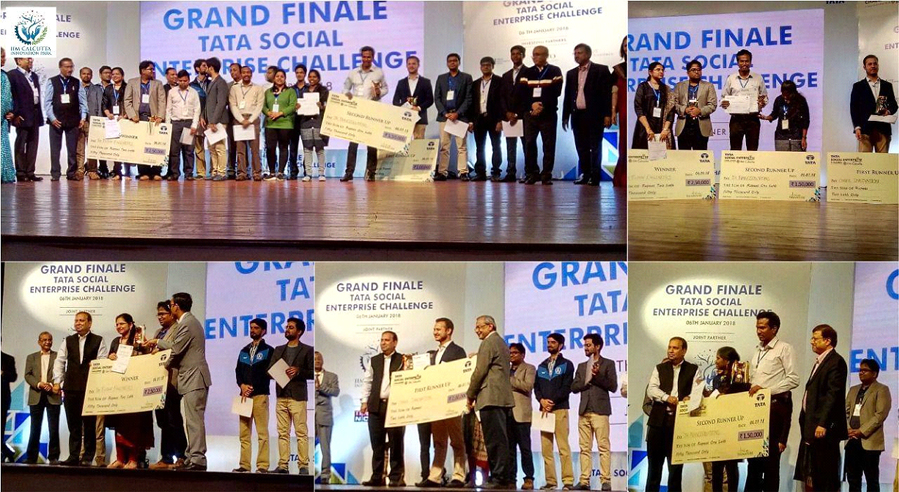 The 6th edition of Tata Social Enterprise Challenge 2018 in collaboration with IIM Calcutta Innovation Park has successfully concluded on 6th Jan 2018 witnessing a wide range of audience from different states, age groups and sectors. It is commendable to see that the Challenge fulfilled the core concept of setting it up with Tata Group in 2012, i.e., to find promising social entrepreneurs across India and nurture them under the IIM Calcutta Innovation Park- a startup incubator at IIM C. Nine teams were selected as the finalists among more than 600 applications this year. The finalists presented their business models and fantastic ideas such as Foldable Houses that has all amenities including sanitation, Women-only last-mile Logistics firm, RCC based Sanitation facilities, Iron patch for Anemia etc. 
The program was inaugurated with the address of Prof. Uttam Sarkar- the dean of New Initiatives and External Relations at IIM Calcutta followed by encouraging words to the competitors from Prof. Ashok Bannerjee, the principal mentor of IIM C Innovation Park. Prof. Bannerjee also noted that for any good idea, three things are utmost needed: a Start, a champion to carry and Patience. TSEC had all three of the ingredients and its been a success through the years. He also said the distinguishing factor of Innovation Park-the startup incubator at IIM C from all the others in India is that the emphasis it gives to For Profit Social Enterprises. TSEC 22018 had an interesting mix of entries from all sectors this year, ranging from Pollution control, health and social awareness to Energy and Irrigation.
The key speakers for the TSEC finale are the distinguished Neichute Doulo, CEO of Entrepreneurs Associates, awardee of Indian Social Entrepreneur 2016 and Dr. Urvashi Sahni, Founder President & CEO, Study Hall Educational Foundation (SHEF), awardee of Indian Social Entrepreneur 2017.
Mr Doulo in his address to the audience talked about his entrepreneurial experience right after his Graduation in Nagaland and how he decided to change the society- by demonstrating Change himself. Mr. Doulo emphasized on the importance of the Team in any startup and how important a social entrepreneur is in the nation building.
Dr. Urvashi Sahni, in her inspiring speech to the audience, stressed on being selfish while including the community, country and the entire Universe in the definition of 'Self'. Dr. Sahni also talked about her initial entrepreneurial experiences and the challenges she faced while setting up her first educational centre and the importance of feminism to be instilled right from childhood, because she believes Schools are the most powerful Transformative sites for Change! The event concluded with grandness and the team The Elbow Engineers won the TSEC award.
Reported by:
Kavya Devarapalli
PDGM batch of 2019